Cosmetic Dentistry – Owasso, OK
Making it Easy to Build Your Dream Smile
A healthy smile isn't necessarily one you're happy to see in the mirror. Even if the teeth themselves are perfectly fine functionally, they might still be marred with stains, cracks, and other embarrassing cosmetic flaws. Dr. Gaches offers a variety of cosmetic treatments, including veneers, teeth whitening, clear aligners, and a host of advanced services that can enhance both your smile and your confidence. Get started today by scheduling an appointment with us to discuss your options for cosmetic dentistry in Owasso, OK.
Why Choose Infinite Smiles Dentistry for Cosmetic Dentistry?
Variety of Teeth Whitening Options
State-of-the-Art Smile Design
Dermal Fillers & Cosmetic Injections
Porcelain Veneers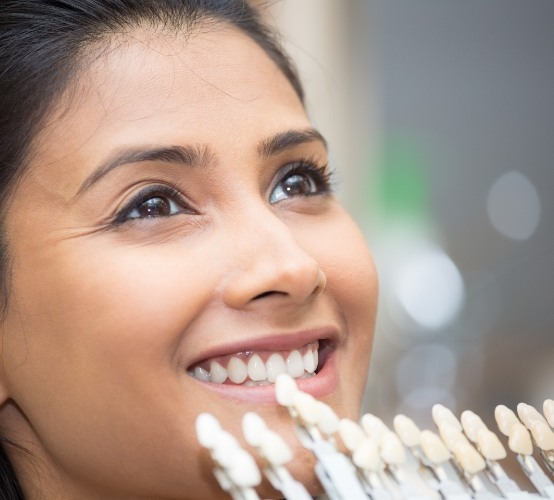 When you first commit to giving yourself a smile makeover, you might be preparing to schedule multiple treatments to address all of the imperfections on your teeth. But in many cases, your teeth can undergo a complete transformation with veneers alone! Made out of thin sheaths of porcelain, veneers adhere to the front of the teeth to cover up chips, discoloration, and other imperfections. Each veneer is carefully shaded to create a brilliant smile that doesn't look like it ever needed cosmetic treatment in the first place.
Metal-Free Dental Crowns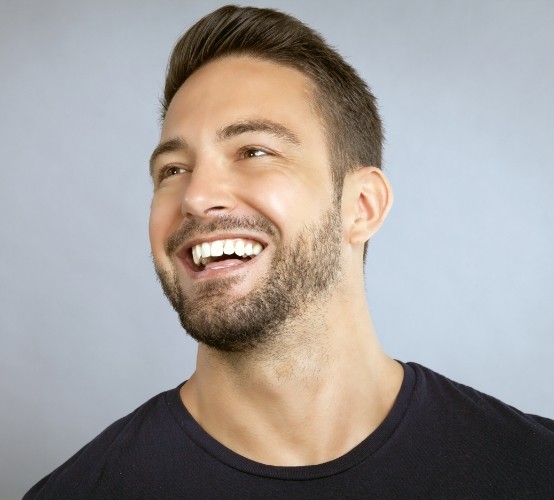 What will your new dental crown be made of? For those who are concerned with how their teeth will look afterwards, we recommend metal-free restorations that are composed entirely of tooth-colored ceramics. These crowns can be effectively used for both the front and back teeth, allowing us to repair your smile without compromising its appearance. In some cases, we might even recommend using a crown strictly for cosmetic reasons, covering extensive cosmetic flaws all at once.
Teeth Whitening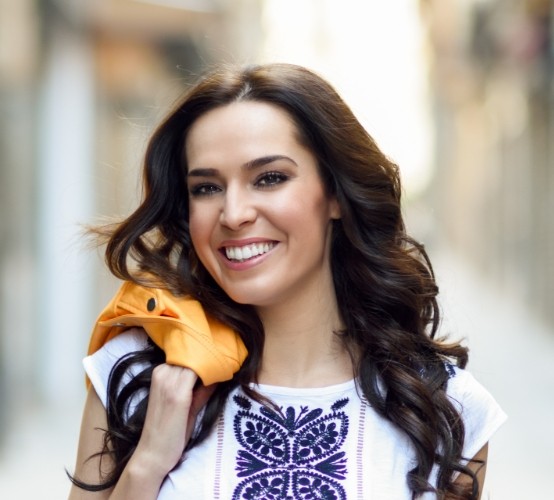 Our dental office offers both KOR and Opalescence teeth whitening – two procedures that can remove many of the stains and discoloration that can't simply be brushed away. Both treatments involve whitening gels that can penetrate the enamel, heading right to the source of the stains. In-practice whitening treatments can be completed in as little as an hour. Take-home kits are also available for those who don't mind waiting a couple of weeks to enjoy an enhanced grin.
Invisalign® Clear Aligners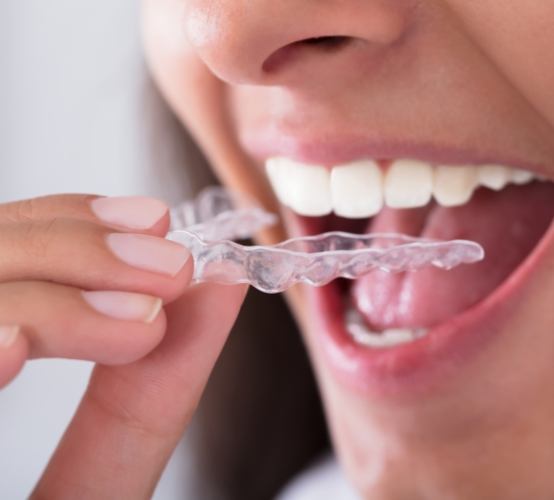 When thinking about the smile of your dreams, you probably picture all of your teeth in a perfectly straight row. In the past, to achieve this, your only choice would be to get braces – an obviously unhappy prospect for most adults. Invisalign clear aligners provide an option for straightening the teeth without unsightly metal brackets. You can go on dates and speak in front of others at work all while Invisalign discreetly corrects your teeth and jaws.
Gum Recontouring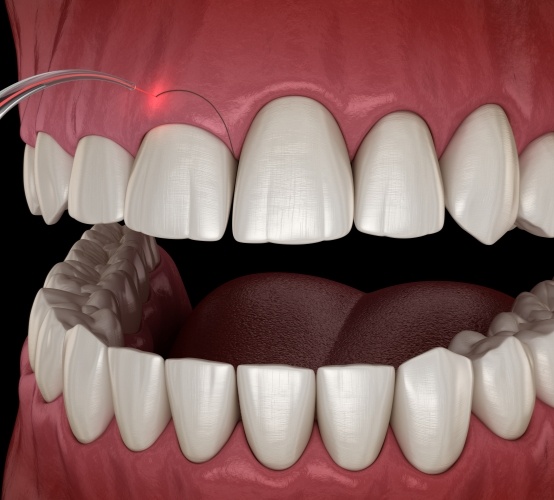 Have you ever realized that everyone has a different gum line? Some are higher and lower than others, which in turn can make the teeth appear longer or shorter than they should be. Gummy smiles are the result of a gumline that covers too much of the tooth. If you feel self-conscious about your gums, a gum recontouring process can be used to remove unneeded tissue, allowing us to sculpt the gum line into a more aesthetically pleasing shape.
Virtual Smile Design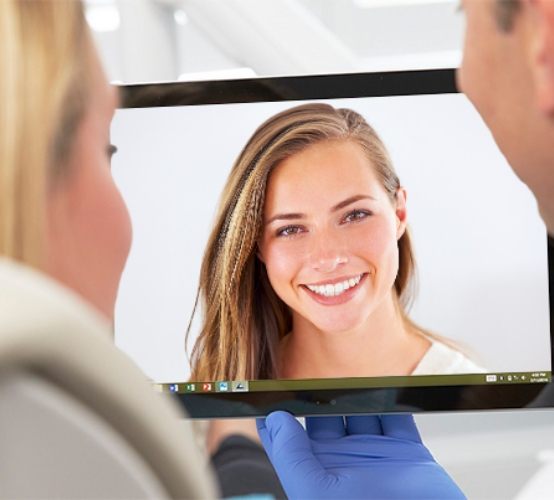 Before beginning any sort of cosmetic treatment, we'll use our virtual smile design software to show you the kind of grin that you can look forward to. Digital scans of your mouth are manipulated to show what the teeth will look like once your treatment is complete. You'll know exactly what to expect from your new smile and can make a well-informed decision when choosing the kind of cosmetic treatment that you want to undergo.
Restylane Dermal Fillers
Restylane gives us a noninvasive way to get rid of the wrinkles surrounding your smile. The treatment involves injections filled with hyaluronic acid, which plumps up the skin wherever it's applied. The injections can take anywhere between 15 to 60 minutes for each session, and you should start to see smoother skin immediately; the full effects should start to kick in after a few days. The effects of Restylane can last for up to 18 months.
Dysport Cosmetic Injections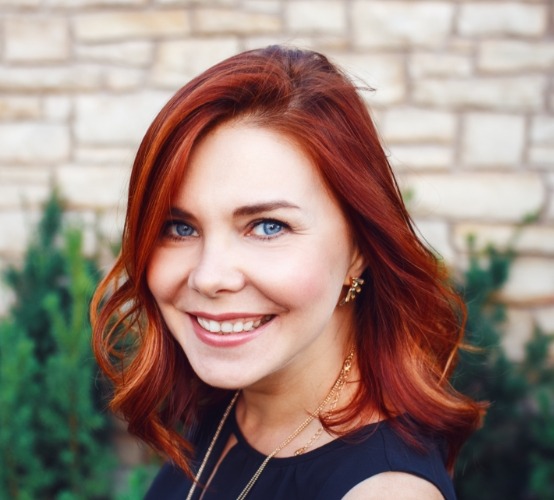 Dysport is another solution we offer for wrinkles, particularly those around the area between your eyebrows that become visible whenever you frown. A Dysport injection temporarily paralyzes nearby muscles, stopping them from making unconscious spasms and contractions that can lead to wrinkles. The injections take just a few minutes, and the results last between three and four months before you need a follow-up appointment. No recovery time is required; you can go straight home and continue the rest of your day as normal.