Veneers – Owasso, OK
A Better Smile for a Brighter Future
Do you look in the mirror every day and wish you had a nicer set of teeth? Don't worry – you're not alone. According to the American Association of Orthodontists, more than one-third of Americans are unhappy with their smile. The good news is that nowadays there are many ways you can improve your grin! At Infinite Smiles Dentistry, you can transform the appearance of your teeth with veneers in Owasso. If you'd like to find out whether this cosmetic service is right for you, continue reading or give our office a call today!
Why Choose Infinite Smiles Dentistry for Veneers?
State-of-the-Art Technology
Compassionate Dental Team
CareCredit Financing Available
What are Dental Veneers?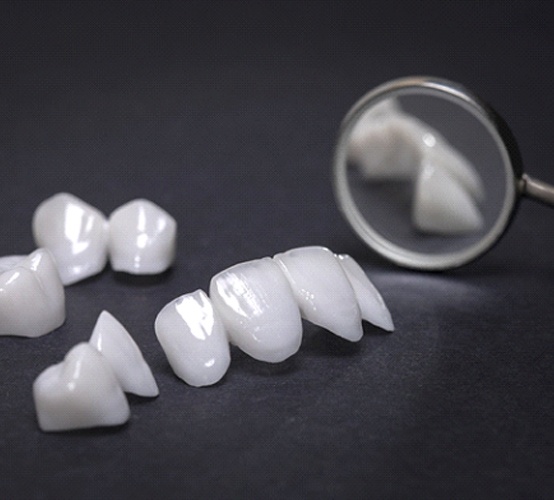 Veneers are thin sheaths of dental-grade porcelain that are bonded to the front-facing portion of your teeth. The minimally invasive treatment is capable of addressing multiple aesthetic issues, such as discoloration, gaps, cracks, and misalignment. Since veneers are attached to the front of your teeth, they instantly mask your dental imperfections. Many patients opt for this cosmetic service because results can easily last over a decade with proper care and maintenance.
The Process of Getting Veneers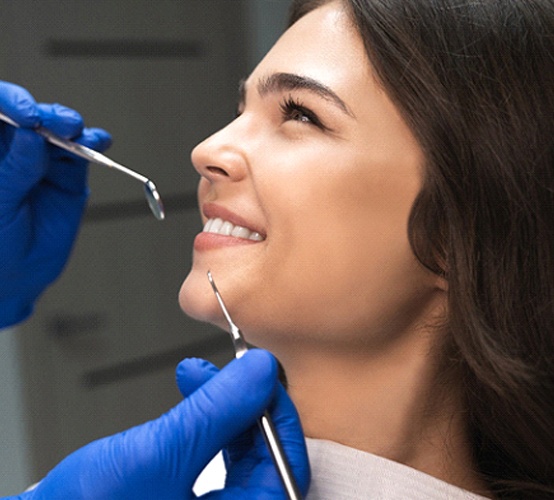 The first step on your journey towards a brand-new smile is a consultation with our team at Infinite Smiles Dentistry. Dr. Gaches will conduct an oral examination, review your medical history, and inquire about your goals to determine whether this option is right for you. Afterward, you'll get scheduled for the first phase of treatment.
At your first appointment, Dr. Gaches will remove a thin layer of enamel to ensure the veneers sit flush against your teeth. Once your teeth are prepared and cleaned, he'll take digital impressions for the dental laboratory. They'll design your final veneers using the specifications provided.
While your permanent veneers are being made, you'll wear temporary ones to protect your altered teeth in the meantime. After about two weeks, your veneers should be ready, and you'll return to our office for their placement. If needed, Dr. Gaches will make any final adjustments to their size, shape, and color. Once your veneers are permanently bonded to your teeth, you'll be ready to show off your flawless grin!
The Benefits of Veneers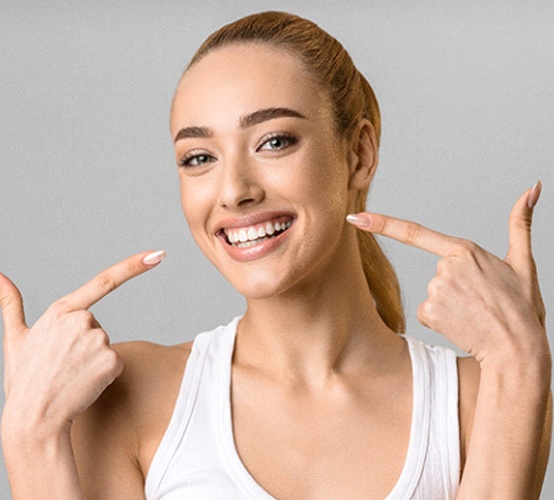 Veneers are one of the most popular cosmetic treatments because they offer many incredible benefits, such as:
Ability to transform multiple aspects of your smile at once (i.e., size, shape, color)
Minimally invasive treatment
Natural-looking results
Long lifespan with proper care and maintenance
Results in as little as two appointments
Veneers FAQs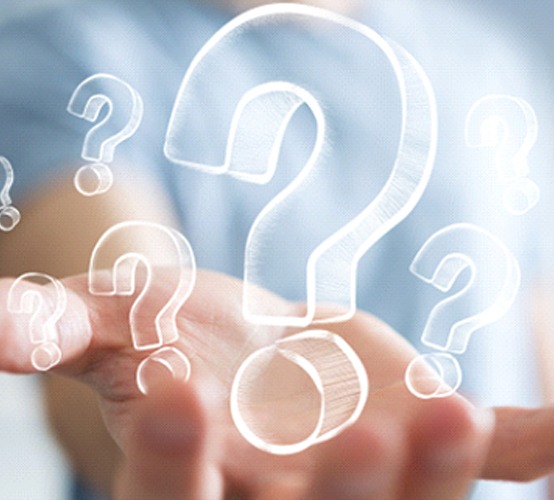 Veneers in Owasso can turn the smile of your dreams into reality, but they are a big commitment. Don't worry if you have a few concerns. Dr. Gaches will explain everything during your consultation for veneers. Here are the answers to the most frequently asked questions to help determine if they are the right option for you.
Are veneers permanent?
Veneers aren't permanent, but they aren't reversible, either. Although they need to be replaced eventually, veneers are designed to serve as a long-term solution using a unique etching method. A small amount of enamel will need to be shaved off to allow veneers to bond well with your teeth. If veneers are taken off, your enamel won't grow back. While etching doesn't harm the health or structure of your teeth, you can be at risk of sensitivity, decay, and other issues if they aren't covered by restorations, whether veneers or crowns. Thankfully, you don't have to worry about replacements often because the average lifespan of veneers is more than 10 years with the right care, like brushing, flossing, and visiting your dentist regularly.
How many veneers will I need?
A veneer can be bonded to a single tooth to enhance its color, size, and shape. However, the goal of veneers is to improve the entire smile. As a result, veneers are often applied to the teeth visible when smiling. There's no way to know how many you'll need without first having a consultation because every mouth and situation differs. Some patients only need 4 to 6, while others may require 8 or more. After examining your mouth and learning more about your goals, your cosmetic dentist in Owasso, Dr. Gaches, will determine how many veneers you'll need for a picture-perfect smile.
Can I use my dental insurance to pay for veneers?
It's uncommon for dental insurance to cover elective procedures, like veneers, unless they are medically necessary. This can be the case when needing replacements because your teeth will be at risk of preventable damage if they aren't covered. However, you can use your insurance for certain steps in your treatment plan, like any preparatory procedures, including a dental cleaning, fillings, or gum disease therapy. We will work on your behalf with your dental insurance to maximize any appropriate benefits and explain how they are being used. If there's any remaining balance, they will also review your payment options, like monthly installments using a third-party financing company.
Do veneers feel natural?
It may take a few days to adjust to having veneers on your teeth, but you might soon forget they aren't part of your natural smile. Porcelain has made veneers thinner than ever, so they won't feel heavy or bulky. Advanced technology is used to craft each veneer to fit your tooth like a glove. You won't feel any ridges or ledges when running your tongue over your teeth. You won't have any concerns about the way your veneers look or feel when eating, speaking, or smiling.