Dental Implants – Owasso, OK
Replacing the Entire Tooth, Roots and All
Traditional forms of tooth replacement don't make up for the entire dental structure. They easily replace the crowns of the teeth, but the roots that used to be attached to the gums and the underlying bone go unaddressed. If you want to replace the whole tooth, roots included, then you have only one option: dental implants. Get in touch with Infinite Smiles Dentistry today to schedule a consultation to discuss replacing missing teeth with dental implants in Owasso, OK from Dr. Gaches.
Why Choose Infinite Smiles Dentistry for Dental Implants?
Placement & Restoration in One Place
A Patient-Oriented Approach
Implementing the Latest Technology
What are
Dental Implants?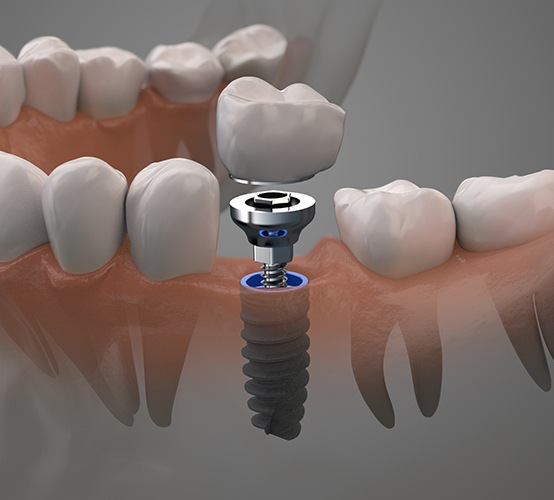 When the term "dental implants" is used, it's usually referring to endosteal implants – small titanium posts shaped like screws. They're made out of biocompatible metal so that they can fuse with the jawbone in a process called osseointegration. Implants keep the restorations attached to them permanently anchored in place, giving them additional strength and support that they wouldn't have otherwise. The number of dental implants used depends on the number of teeth missing.
Benefits of
Dental Implants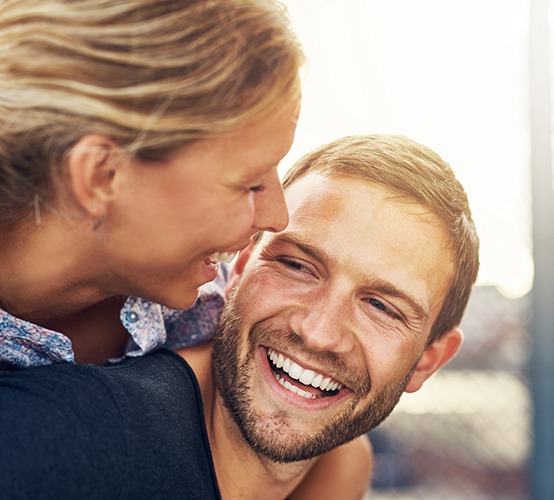 There are many distinct differences between dental implants and more traditional tooth replacements. Since implants interface with the actual jawbone, they can act to stop the bone loss that would otherwise cause your facial features to collapse and make you look older. The implant posts will let you enjoy chewing power that is nearly equal to that of natural teeth, letting you eat whatever you like. When dentures are attached to dental implants, they will not slip and can be brushed and flossed as though they were natural teeth.
Since implants have a success rate that averages out to around 95 to 98 percent, you can be confident when you arrive at our dental office to have them placed. You can also expect the results to last, as implants have been known to last between 30 years and a lifetime – far longer than the average lifespan of traditional bridges and dentures.
Are Dental Implants
Right for You?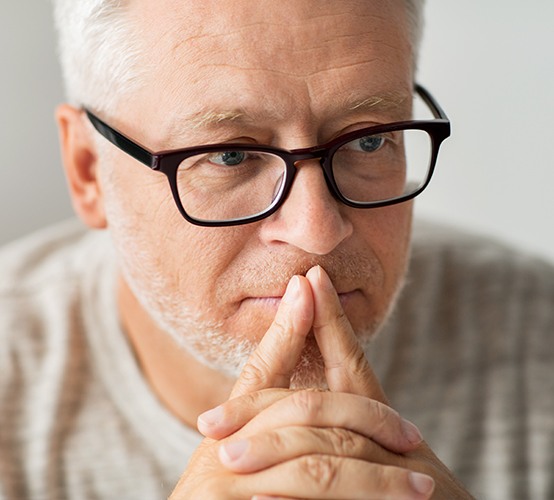 Dental implants are recommended for anyone who has lost a tooth and still has a healthy jawbone to support them. (Bone grafts are recommended for those whose jaws have already begun to resorb.) There are various ways to replace teeth with dental implants depending on your needs – specifically, how many teeth were lost in the first place.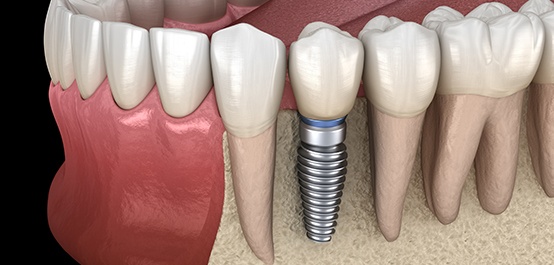 Missing Single Tooth
A single implant is an alternative to the dental bridges that would require us to alter existing teeth. After the jaw fuses with the bone, an abutment is attached to the post. Later, once the gums are done healing, a crown will be attached to the abutment portion of the implant.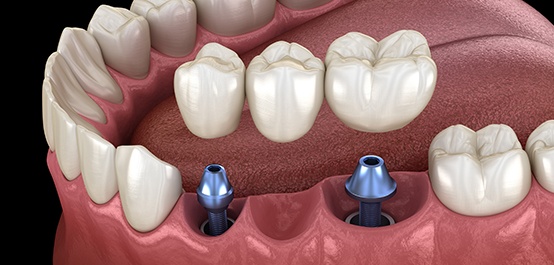 Missing Multiple Teeth
With the right number of implants, we can replace any number of teeth simultaneously. Dental bridges can use a pair of implants as support whenever three or more teeth are gone. Dentures can be anchored to four to eight implants, keeping them in place at all times and providing superior chewing strength.
Start-to-Finish Convenience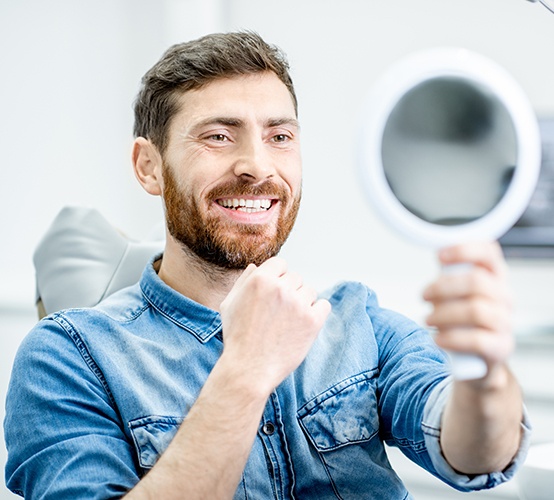 Plenty of dental offices offer dental implants, but not all of them perform the placement surgery in-house; in many cases, you'd have to travel to see an offsite specialist for that portion of the treatment. Dr. Gaches has the training and skills necessary for both placing and restoring dental implants. That means no inconvenient trips to a separate dental office and no having to deal with a completely new team; you simply leave everything to the friendly staff at Infinite Smiles Dentistry.
The Cost of
Dental Implants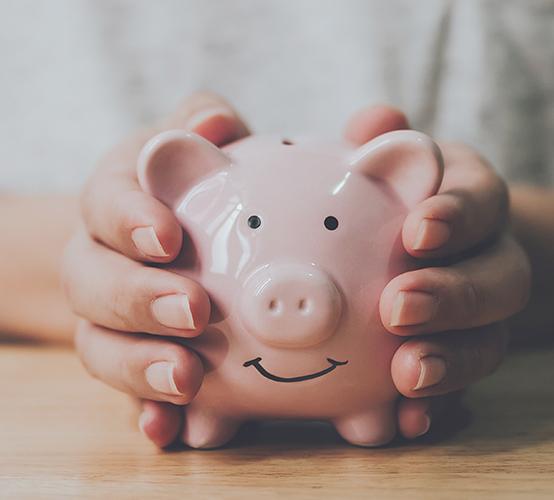 The cost of a dental implant procedure isn't set in stone. It tends to vary quite a bit based on the number of teeth missing and the need for additional preparatory treatments. Insurance can also affect the amount you pay; implant placement may not be covered, but related treatments often are. Don't forget that since dental implants don't need to be replaced as often as traditional bridges and dentures, they can actually help you save money over the years.