Invisalign – Owasso, OK
A Straighter Smile. Guaranteed.
Many adults and older teens are hesitant to undergo orthodontic treatment because they want to avoid the hassle of metal wires and brackets. The good news is that there's now a clear alternative for a straighter smile – Invisalign. This modern orthodontic treatment allows you to discreetly and comfortably achieve your dream look in record time! If you're interested in learning more about Invisalign in Owasso, continue reading or make an appointment with our team today.
Why Choose Infinite Smiles Dentistry for Invisalign?
Advanced Smile Design Technology
Experienced and Compassionate Dentist
Insurance-Friendly Dental Practice
How Does Invisalign Work?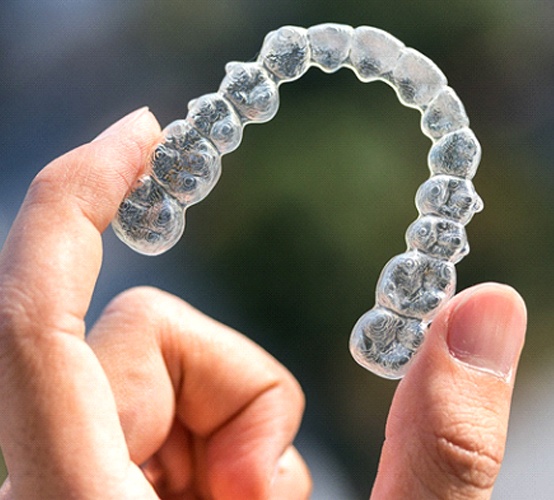 What's unique about Invisalign is that it uses a series of clear aligners to move teeth into their properly aligned positions. Each set of plastic trays is worn for a predetermined amount of time, usually about two weeks. It's designed to gradually move a portion of your smile until the entire thing is perfectly straightened. Additionally, you will only need to visit Dr. Gaches every six weeks or so for a checkup and to pick up a new set of aligners. That's why Invisalign is the ideal choice for patients with busy schedules!
Indications for Invisalign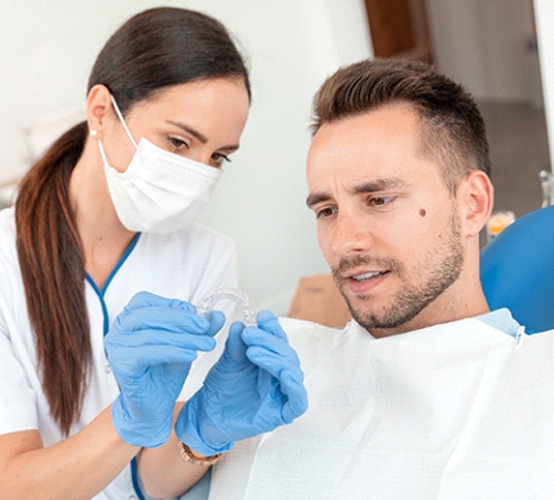 Invisalign can address a wide range of orthodontic issues, including:
Crowded Teeth
Do you feel like you have too many teeth in your mouth? If so, you may benefit from Invisalign. The clear aligners apply gentle pressure to different parts of your smile throughout the treatment process. Crowded teeth can increase your risk of tooth decay and gum disease, which is why it's incredibly important to get them fixed as soon as possible.
Gaps Between Teeth
You may feel self-conscious if you have gaps in your smile. Although it can certainly make you feel unattractive, it can also increase your chances of developing cavities and other infections. That's primarily because food particles can get trapped in between the spaces of your teeth, contributing to decay and even bad breath. Luckily, Invisalign can push your teeth into a healthier, straighter position.
Bite Alignment
A misaligned bite can place unnecessary pressure on your temporomandibular joint and cause problems like TMJ disorder and teeth grinding and clenching. The good news is that Invisalign is capable of addressing problems like underbite, overbite, or crossbite.
The Benefits of Invisalign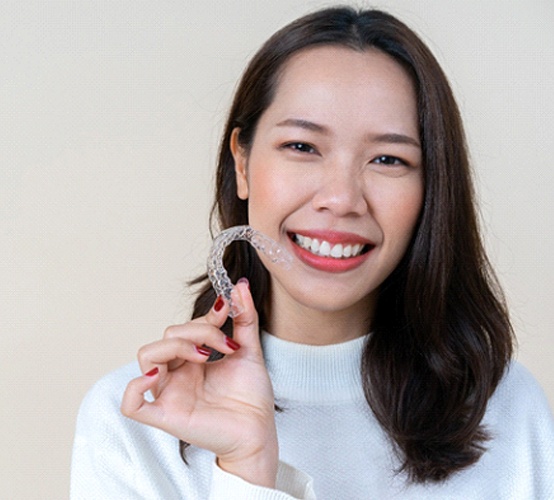 With Invisalign, you can look forward to multiple incredible benefits, such as:
Safe and comfortable treatment. Metal wires and brackets can sometimes be uncomfortable because they poke the soft tissues in the mouth. Since is Invisalign is designed with smooth plastic, you can enjoy a much more comfortable treatment process.
Shorter treatment length. Traditional braces can take two to three years to straighten your teeth, while Invisalign can typically be completed in just 12 to 18 months.
Virtually invisible treatment. Since the clear aligners are virtually invisible, no one will even notice you're undergoing orthodontic treatment!
How Much Does Invisalign Cost?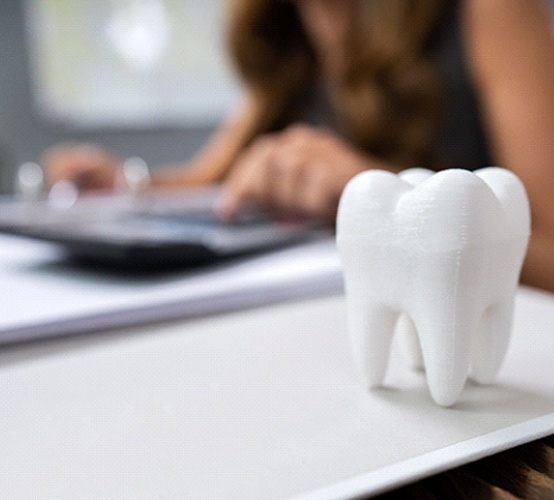 No two smiles are the same. Because of that, it's impossible to provide you with an accurate cost estimate for Invisalign in Owasso until you come in for an exam. At your consultation, our team at Infinite Smiles Dentistry will explain which factors influence the total price and what you can expect from your unique treatment plan. Even though Invisalign is generally more expensive than traditional metal braces, many patients find that the incredible benefits are worth every penny!
Invisalign FAQs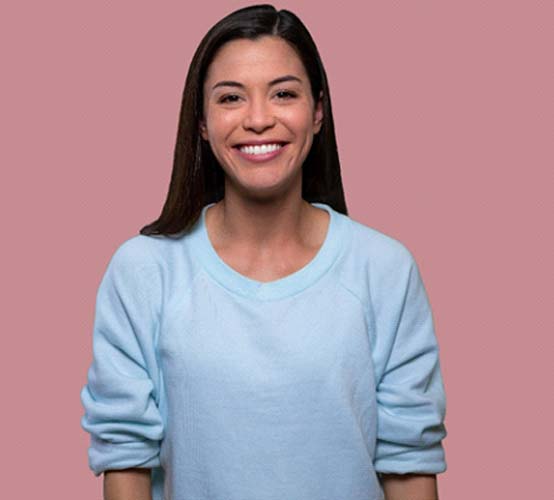 If you've already had traditional braces before or are seeking orthodontic treatment for the first time, you may be able to undergo Invisalign. With this procedure, you'll be able to achieve a perfectly straight smile in the most discreet method. That said, it's natural to still wonder what you can expect from the process before committing to it. At Infinite Smiles Dentistry, our team is here to make finding the answers as simple as possible. We've collected the most commonly asked questions our patients have about Invisalign in Owasso. Feel free to keep reading or call our office directly to learn more!
How Long Does Invisalign Take?
Not only does Invisalign offer a virtually invisible process for straightening your smile, but it also has a quicker wear time compared to metal braces. While the length of the treatment will depend on the severity of your orthodontic issues, the average period is between 12 and 18 months. Traditional braces typically take around 24 months or more to complete, making it clearer why many patients prefer to go with Invisalign.
Does Invisalign Hurt?
During your treatment, your teeth will gradually shift into a more proper position with each clear aligner you wear. For this reason, it's normal to feel mild soreness when undergoing Invisalign, as you'll need to get accustomed to the changes in your smile. If you experience any minor discomfort—especially when switching to a new set of trays—you can easily manage it by taking OTC pain relievers, using a cold compress, and eating a soft food diet. Your clear aligners will also be much smoother than traditional braces, offering more comfort for your oral tissues.
Can You Eat with Invisalign?
A rule of thumb for Invisalign is to not drink or eat anything with your clear aligners on (except for pure water). Doing so can damage, warp, or stain the surface of your trays, taking away their discreetness. Fortunately, you can remove your clear aligners before your meals, that way you can enjoy all your favorite foods. You'll still want to maintain your dental health throughout the process, so make sure to be careful with sticky, crunchy, or sugary treats. Remember to clean your teeth and trays before wearing them again, that way you continue your progress with a fresh smile.
What If My Invisalign Broke?
You'll need to visit us right away if you're Invisalign aligners break. Your dentist in Owasso may recommend a few options depending on where you are in your treatment plan. You may be able to switch to a new set of trays if you're already about to transition to your next aligners. However, if you still have your recent pair, we might suggest you wear them until you get your replacements. Make sure you consult our dental team before taking any actions, as you can accidentally set back your treatment timeline without the proper steps.